Kiln-Casting with Glass: The Process
Anna Boothe, former faculty member in the Glass Program at Tyler School of Art (Temple University) and current freelance artist, provided us with a behind-the-scenes look at her lead crystal kiln-casting process. You can find Anna's bio at the end of this article or view her work at www.annaboothe.com.
Photo Credits: Anna Boothe
Step 1: Create the Original Model
From wax, Anna hand-carves a form that she wishes to transpose into glass. All details and surface textures will be replicated.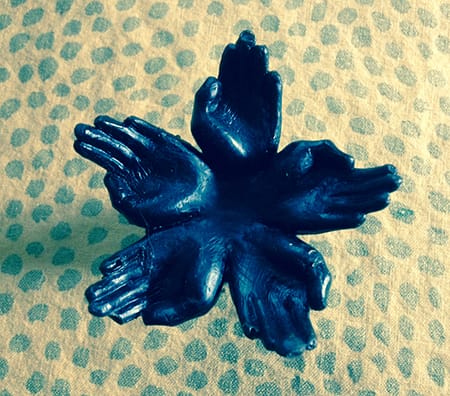 Original models do not necessarily need to be carved from wax. They can be made from any number of materials. The composition of the original may affect which mold material (i.e., silicone or polyurethane) is used in the next step.
Step 2: Fabricate a Flexible Rubber Mold
To create multiples of the original wax model, Anna fabricates a polyurethane rubber mold. Silicone mold rubber is also an option.
In this case, she utilizes Poly 74-24 Liquid Rubber, a relatively soft, two-part polyurethane rubber. The mold making process is not detailed here, but Anna made this mold by using a "poured block mold" technique. For a tutorial on this process, visit the How to Make a One-Piece Rubber Block Mold article or browse our entire Block Mold category.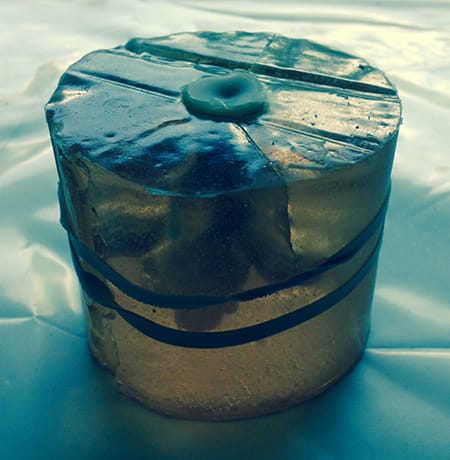 Step 3: Make Wax Copies of the Original Model
The original wax is removed and archived; future waxes of this model are generated by pouring molten wax into the mold.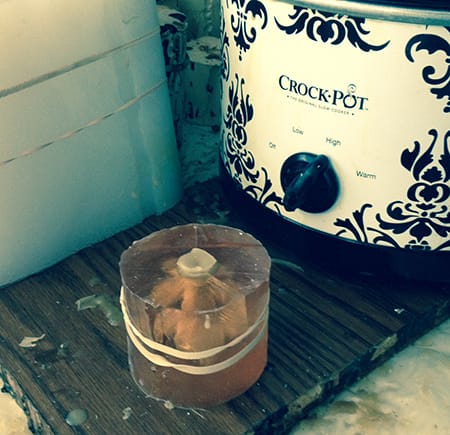 Step 4: Prepare to Make Refractory Mold
In preparation to pour a refractory (heat-resistant) plaster-based mold, Anna places the wax model on a clay base and then secures a tar paper coddle (cylinder into which the liquid refractory will be poured) around the model and base.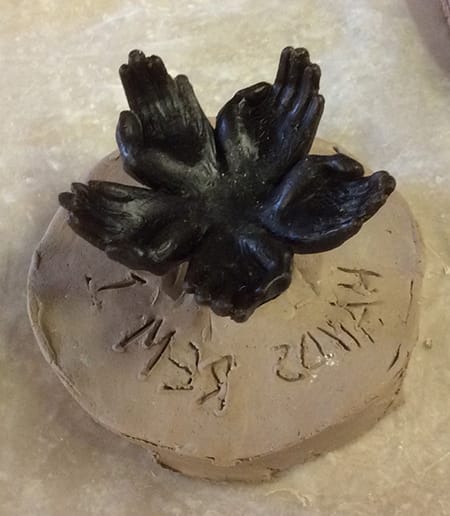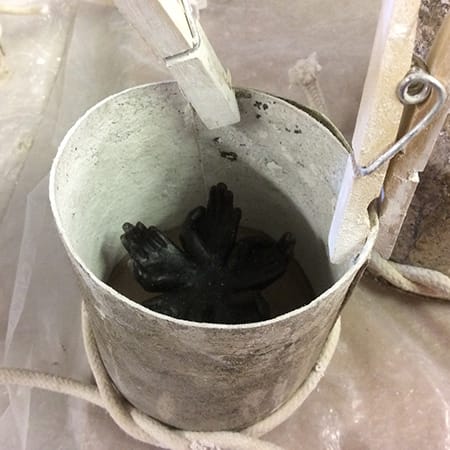 Step 5: Make the Refractory Mold
A refractory mixture predominately comprised of silica, plaster and fiberglass is mixed with water and poured into the coddle.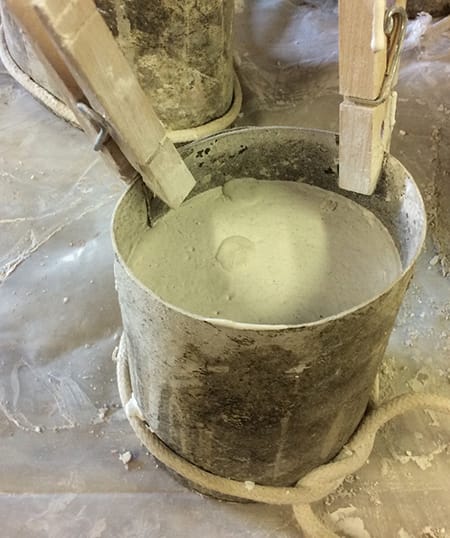 Step 6: Remove Coddle & Melt Wax
When the plaster has cured, Anna removes the coddle. In the photo below, the mold has been turned over to expose the sprue (i.e., the opening into which glass will be poured once the wax has been removed).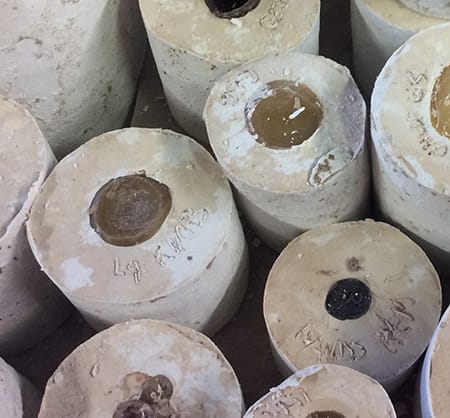 The wax-filled mold is placed upside down inside an industrial pressure pot, atop a grate that is suspended above a water bath. Pressurized steam created by heating the pot over a propane stove causes the wax to melt out of the mold and into the water bath.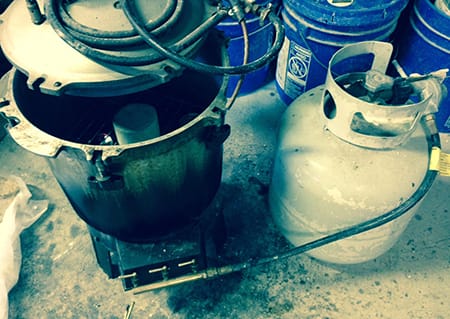 Step 7: Kiln-Casting the Glass
Anna fills the empty mold with leaded glass frit (crushed glass) and places it in a special kiln. The glass is melted at 1500°F degrees and cooled slowly. Anna explains that for molds this size, the whole firing process takes approximately 3 to 4 days.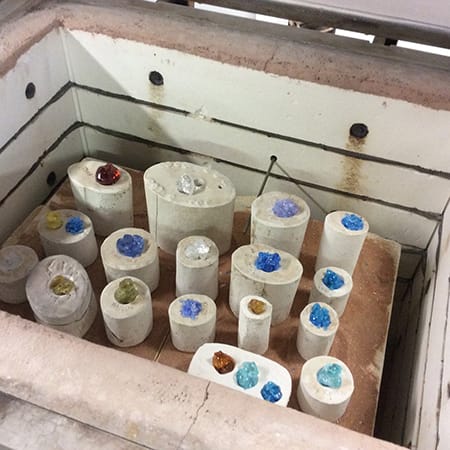 Step 8: Break Away Mold
Once cooled, Anna carefully breaks away the mold from the cast glass object. This type of mold is called a "waste" mold because it can only be used one time.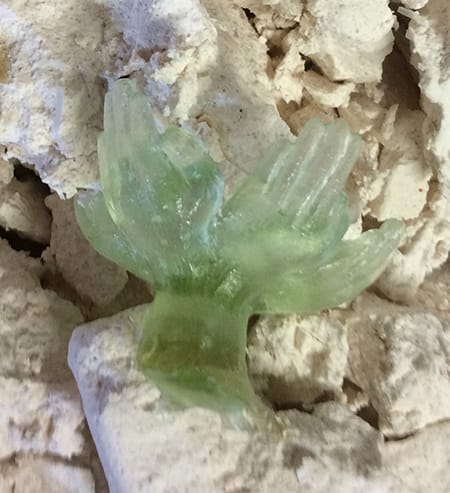 Step 9: The Glass is "Cold-Worked"
After the glass has been washed of mold debris, it is "cold-worked" (i.e. cut, ground and polished using a variety of machinery and hand tools that rely on diamond and other abrasives).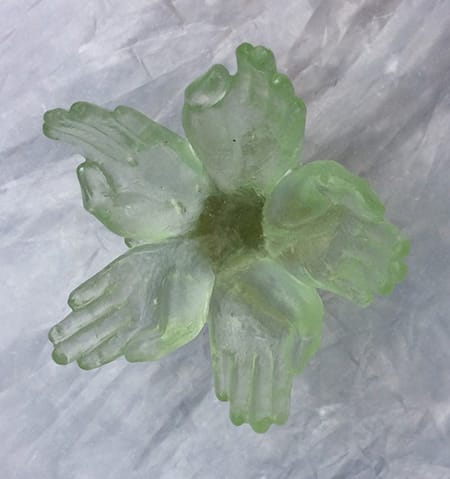 Step 10: The Finished Sculpture
Anna's finished sculpture incorporates multiple "hand flower" forms, all of which have been cast individually and assembled.
"Release" 2008
17" ht. x 17" top diameter x 8.5 bottom diameter
Assembled kiln-cast lead crystal.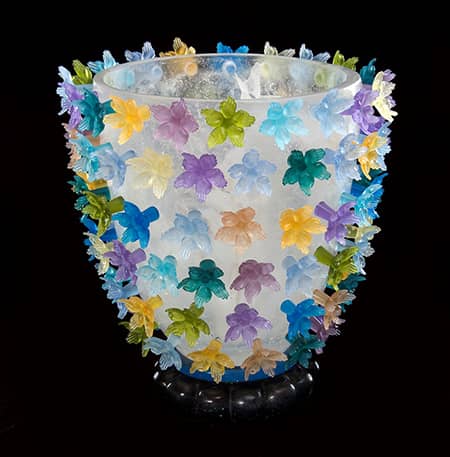 More on Anna Boothe:
With a BFA degree in sculpture and MFA in glass from Rhode Island School of Design and Tyler School of Art (Temple University), respectively, Anna Boothe has worked with glass since 1980. Her primarily kiln-cast and pate de verre work has been exhibited at the Tittot Glass Art and Bergstrom-Mahler Museums, Museum of American Glass, and Kentucky Museum of Art and Design, and is in the permanent collections of the Corning Museum of Glass and the Tacoma Museum of Art. Comprised of both sculptural and decorative objects, her works are shown in galleries throughout the US.
A member of Tyler's glass faculty for 16 years, Anna also helped to develop and institute Salem Community College's (NJ) AFA glass art degree program in 2004 where she also chaired the school's International Flameworking Conference. She has taught and lectured extensively at other schools that include the Corning Museum of Glass, the Pittsburgh Glass Center, Urban Glass, Pilchuck, and venues in Belgium, Switzerland, Turkey, and Japan. In recent years, the artist has presented her work at the Rochester Institute of Technology, Virginia Commonwealth University, the University of Wisconsin at Madison, Illinois State University, Illinois-Wesleyan University, Sheridan College (Toronto) and the Everhart Museum (Scranton, PA). In 2012, Anna was awarded a Corning Museum of Glass Collaborative Artist Residency with NY area sculptor Nancy Cohen, the result of which was exhibited at the Accola Griefen Gallery in Chelsea, NYC in 2013 and reviewed in Glass Quarterly Magazine.
From 1998-2006, Anna served on the Glass Art Society Board of Directors and as the organization's President ('04-'06). Until recently, she was the Director of Glass at Philadelphia's National Liberty Museum where she curated glass exhibits and was in charge of organizing the museum's annual Glass Now auction. Currently, Anna is a freelance artist and maintains a studio northwest of Philadelphia.