Looking Back: Hanks & Spielberg Receive Cold-Cast Bronze Statues
Looking back through the archives of Developments, a Polytek® printed newsletter covering a variety of mold making and casting topics, we are reminded of decade-old customer projects that deserve to be revisited.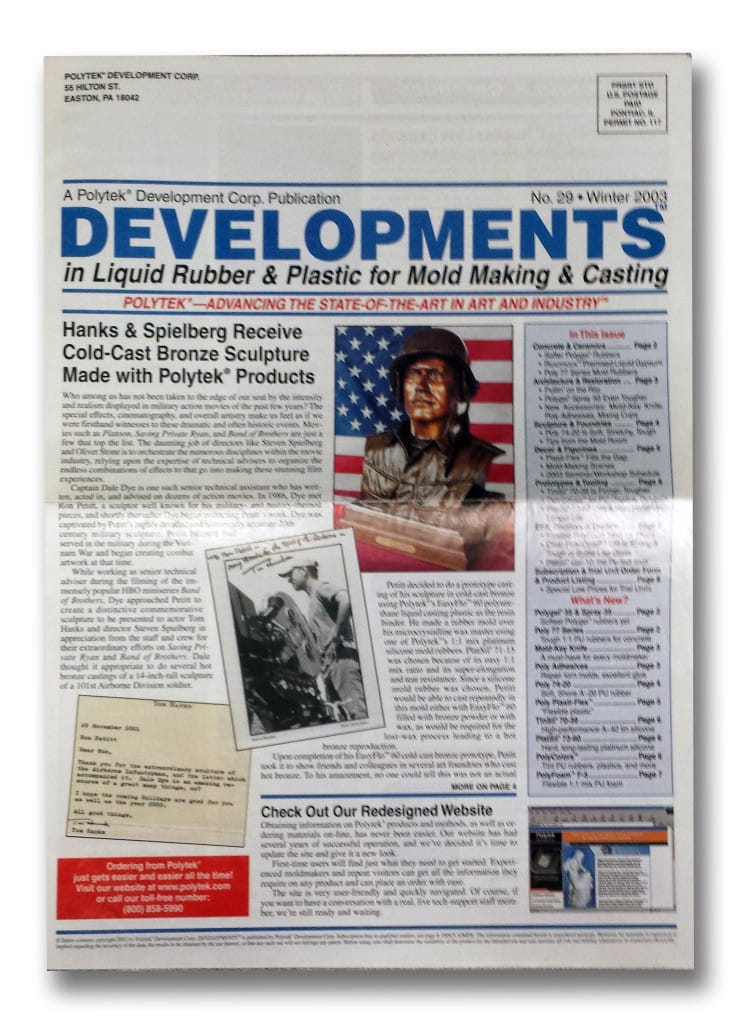 The following article features the story behind the making of a cold cast bronze bust that was gifted to Tom Hanks, Steven Spielberg and Dale Dye. This story appeared in the Winter of 2003 edition of Developments, although the actual project was completed in 2001:
Hanks & Spielberg Receive Cold-Cast Bronze Sculpture Made with Polytek

®

Products

Who among us has not been taken to the edge of our seat by the intensity and realism displayed in military action movies of the past few years? The special effects, cinematography, and overall artistry make us feel as if we were firsthand witnesses to these dramatic and often historic events. Movies such as Platoon, Saving Private Ryan, and Band of Brothers are just a few that top the list. The daunting job of directors like Steven Spielberg and Oliver Stone is to orchestrate the numerous disciplines within the movie industry, relying upon the expertise of technical advisers to organize the endless combinations of effects that go into making these stunning film experiences.

Captain Dale Dye is one such senior technical assistant who has written, acted in, and advised on dozens of action movies. In 1986, Dye met Ron Petitt, a sculptor well known for his military- and history-themed pieces, and shortly thereafter Dye began collecting Petitt's work. Dye was captivated by Petitt's highly detailed and historically accurate 20th-centry military sculpture. Petitt himself had served in the military during the Vietnam War and began creating combat artwork at the time.

While working as senior technical advisor during the filming of the immensely popular HBO miniseries Band of Brothers, Dye approached Petitt to create a distinctive commemorative sculpture to be presented to actor Tom Hanks and director Steven Spielberg in appreciation from the staff and crew for their extraordinary efforts on Saving Private Ryan and Band of Brothers. Dale thought it appropriate to do several hot bronze castings of a 14-inch-tall sculpture of a 101st Airborne Division soldier.

Petitt decided to do a prototype casting of his sculpture in cold-cast bronze using Polytek EasyFlo 60 polyurethane liquid casting plastic as the resin binder. He made a rubber mold over his microcrystalline wax master using one of Polytek's 1:1 mix platinum silicone mold rubbers. PlatSil 71-15 (no longer available – for a similar product, see PlatSil 71-20) was chosen because of its easy 1:1 mix ratio and its super-elongation and tear resistance. Since a silicone mold rubber was chosen, Petitt would be able to cast repeatedly in this mold either with EasyFlo 60 filled with bronze powder or with wax, as would be required for the lost-wax process leading to a hot bronze reproduction.

Upon completion of his EasyFlo 60 cold-cast bronze prototype, Petitt took it to show friends and colleagues in several art foundries who cast hot bronze. To his amazement, no one could tell this was not an actual hot bronze casting! As a result, he chose to forgo the lengthy and more expensive process of creating the hot bronzes and make three cold-castings using EasyFlo 60 and bronze – one for Tom Hanks, one for Steven Spielberg, and one for Dale Dye. This process allowed Pettit to create the sculpture without the aid of a foundry, making each a truly unique piece created entirely by the artist. The "Airborne" castings were a tremendous success and were greatly appreciated, as evidenced by the special thank-you letter from Tom Hanks.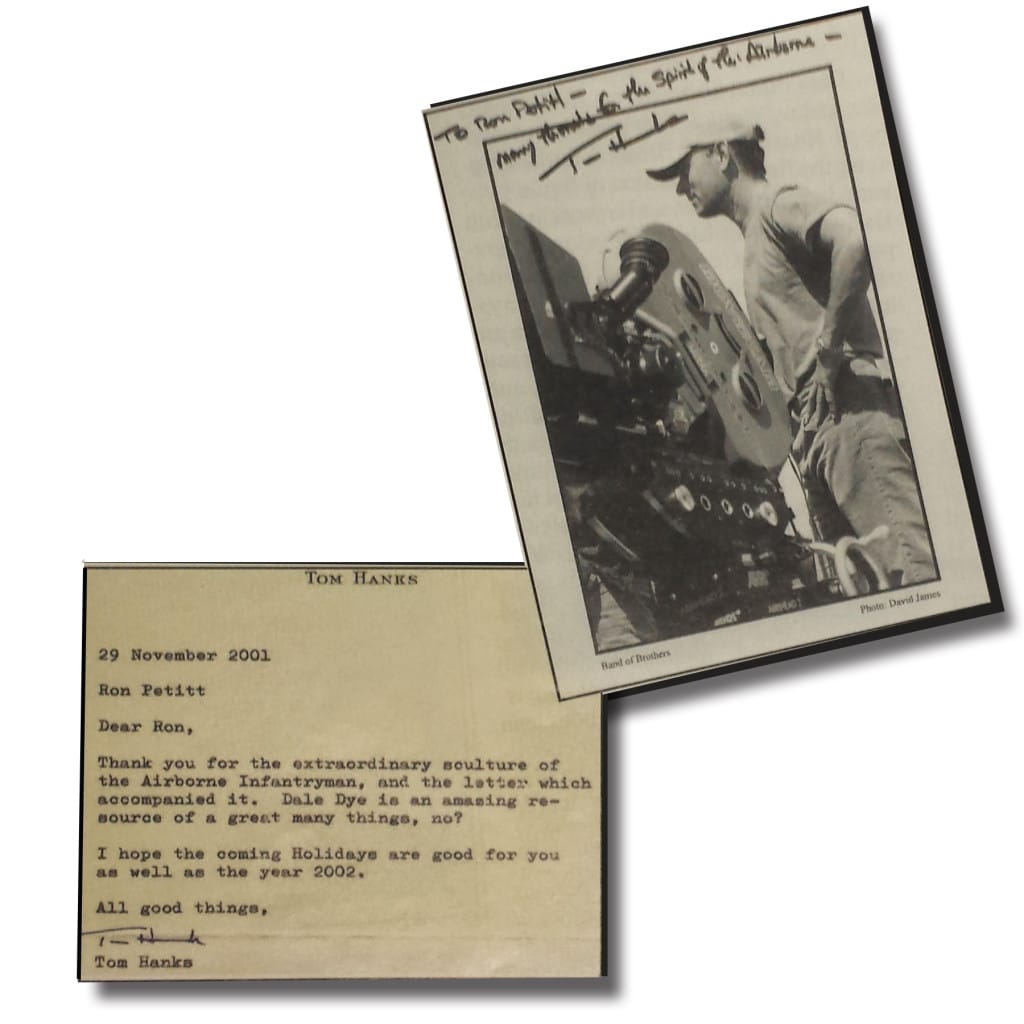 The success and notoriety of this project led the National Association of the 101st Airborne Division to ask Petitt to create a life-size monument in hot bronze that will commemorate the heroic service of American soldiers in World War II, Vietnam, and Desert Storm, as well as those currently in uniform. This sculpture will be the only one of its kind designed exclusively for the 101st Airborne. Polytek mold rubbers will be created to cast wax positives, which will then be sectioned, shelled, and fired to create the refractory molds needed to withstand the temperatures of molten bronze.

Petitt, who has been a Polytek customer for many years, admits he has tried competitive products, but he always comes back to Polytek because of superior product performance, consistency, and support both from Polytek and from his local Polytek distributor in Loveland, CO, Sculpture Depot. Petitt has a studio in Loveland. For more information on the 101st Airborne Division, visit www.screamingeagle.org. To view more of Ron's work, visit www.ronpetitt.homestead.com.
More Information on Cold Cast Bronze
For more information on this cold cast bronze technique, start by learning three different casting methods. To speak with a Polytek technical support staff member:
Call us at 800.858.5990.
Email us at sales@polytek.com.
Fill out this simple online contact form.