Backfilling PlatSil® Gel-OO Skin with Flexible Foam
If you're using silicone to create props, it may make more sense to create a silicone skin backfilled with foam instead of a solid silicone part. Silicone skin backfilled with foam is much lighter and easier to handle and it costs less to manufacture.
This article shows how to make a partial prop head with silicone and flexible foam. A big thanks to BITY Mold Supply for the demonstration.
PlatSil® Gel-OO & PolyFoam F-3
Prepare to cast PlatSil Gel-OO into a suitable mold.
The mold used in this tutorial (pictured below) is made of EasyFlo 120, a polyurethane plastic. No release agent is needed when casting platinum silicone in EasyFlo 120.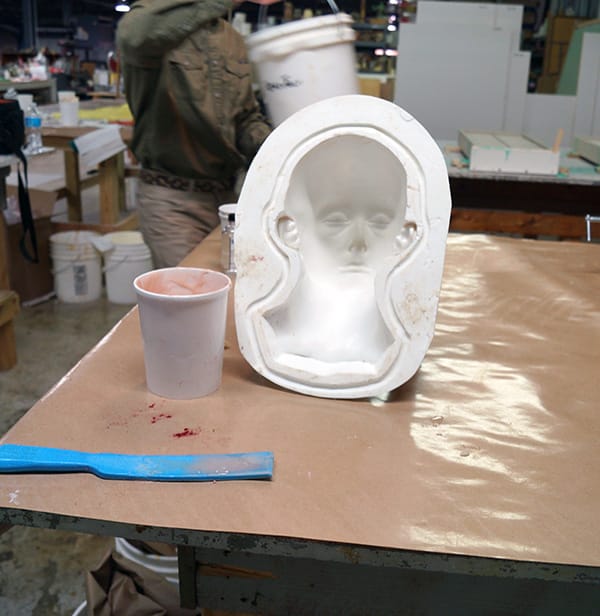 PlatSil Gel-OO is an option in the PlatSil Gel Series. PlatSil Gels are platinum-cured silicone rubbers used for a wide variety of special effects applications, including lifecasting, theatrical prosthetics and mold making. Gel-OO has a Shore OO30 hardness, 6-minute working time, 30-minute demold time and can be easily colored with silicone pigments.

Measure out PlatSil Gel-OO Part A & Part B by weight or volume. We measure by volume below: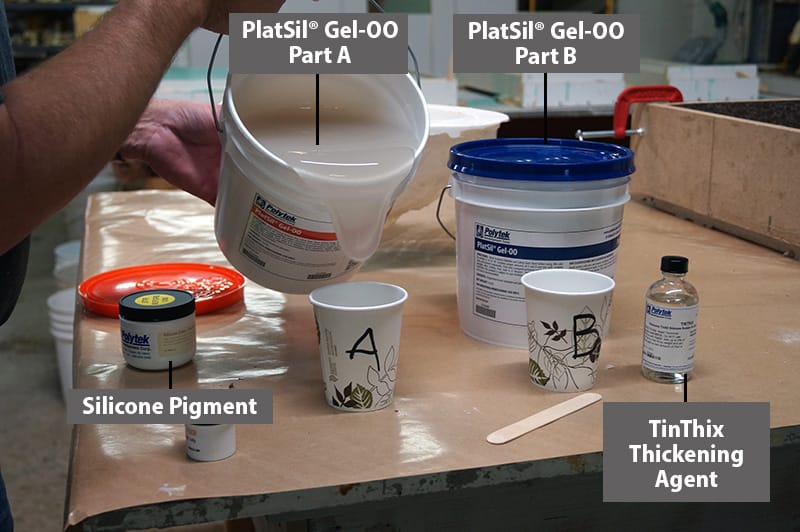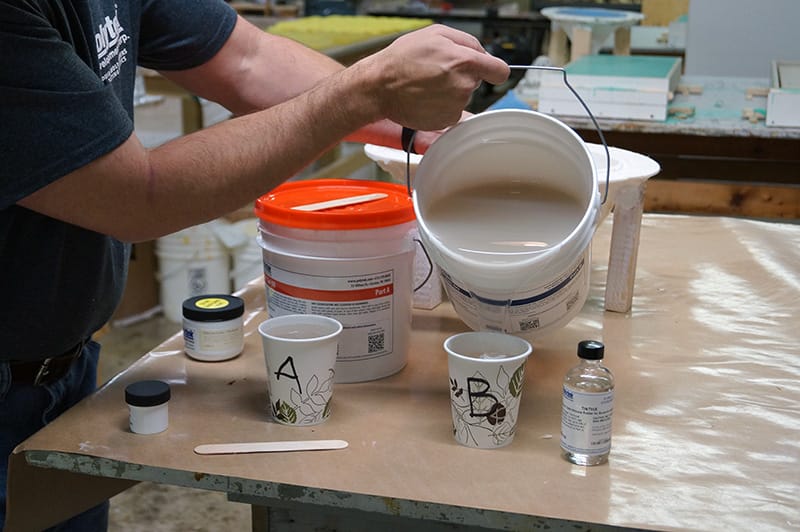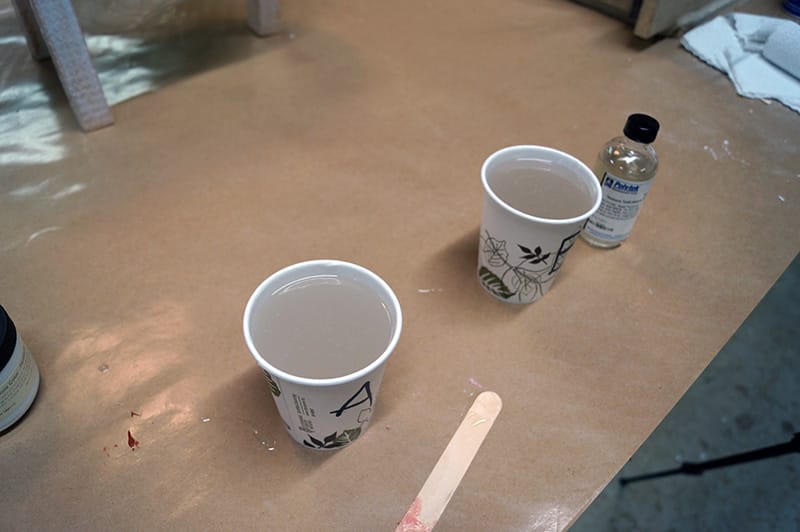 To make the silicone more life-like, color with silicone pigments (e.g., fleshtone, red and blue) before mixing Part A and Part B together. If you mix Part A and Part B together and then try to pigment the silicone, you may run out of working time.

Combine Part A and Part B and thoroughly mix, scraping the sides and bottom of the mixing container several times.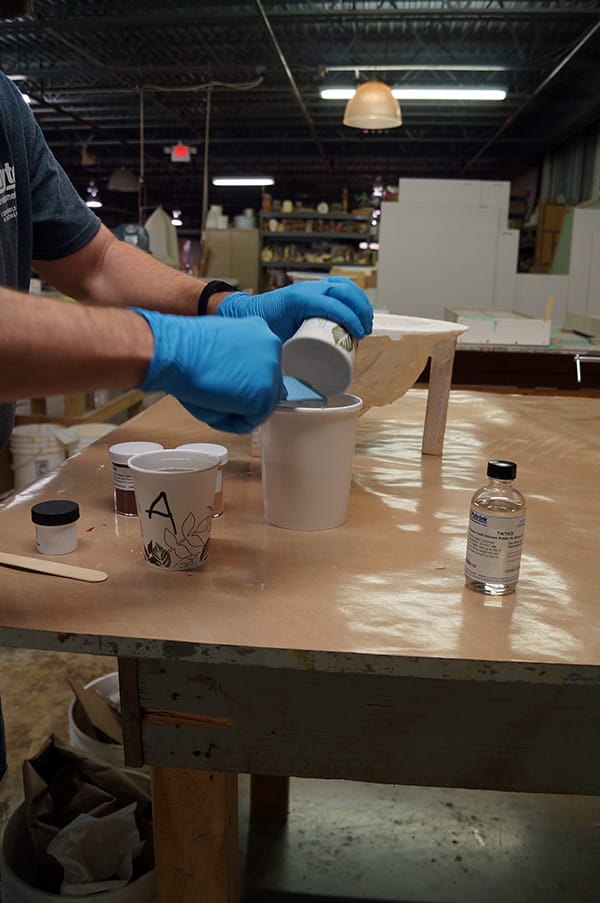 Brush a layer of PlatSil Gel-OO into the mold, making sure to work the silicone into the details.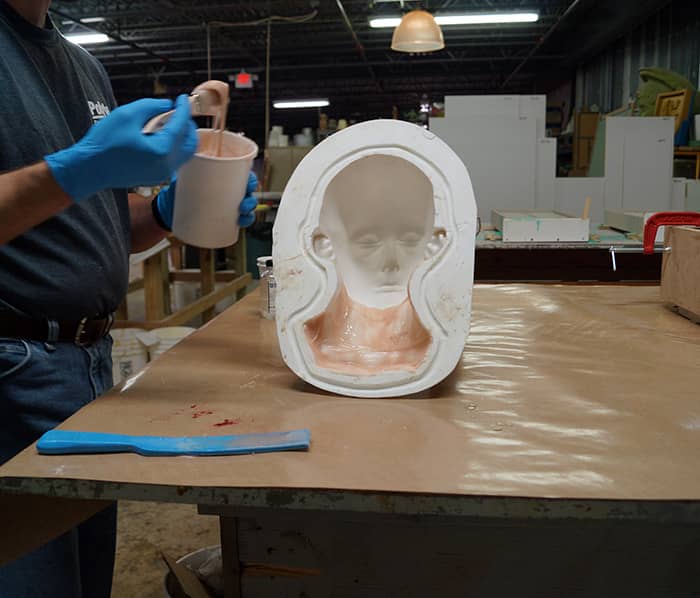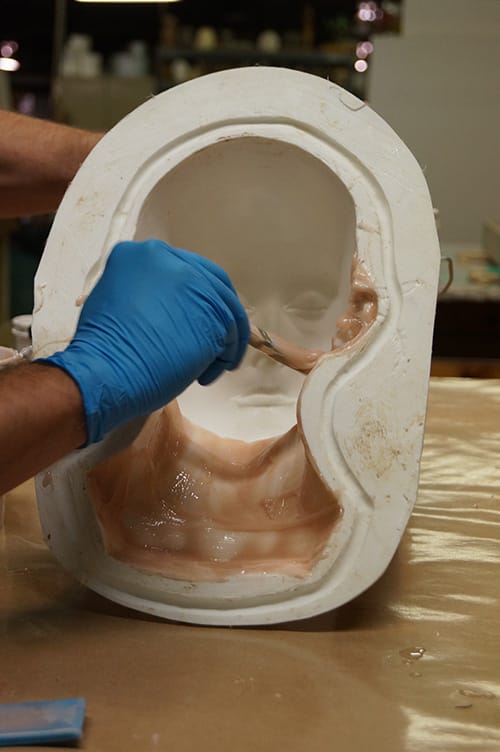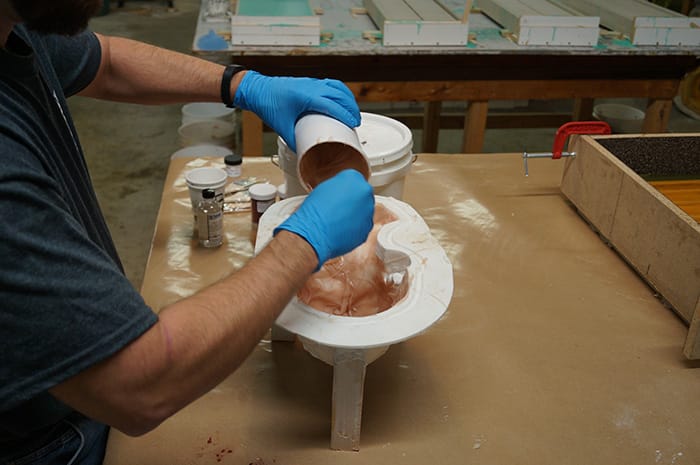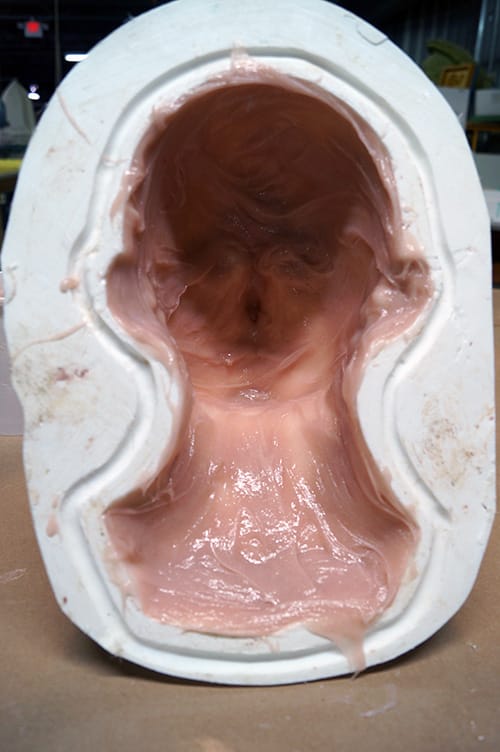 While the first layer of silicone is gelling, prepare to mix up a second batch of PlatSil Gel-OO thickened with TinThix. TinThix is a liquid thickening agent that can be added to tin-cured and platinum-cured silicones (no more than 5%) to bring them to a brushable consistency. We did not add thickener to the first layer because we wanted it to be as thin as possible in order to capture detail. When the first layer has gelled enough that application of the second layer will not disturb it, brush in a layer of thickened Gel-OO.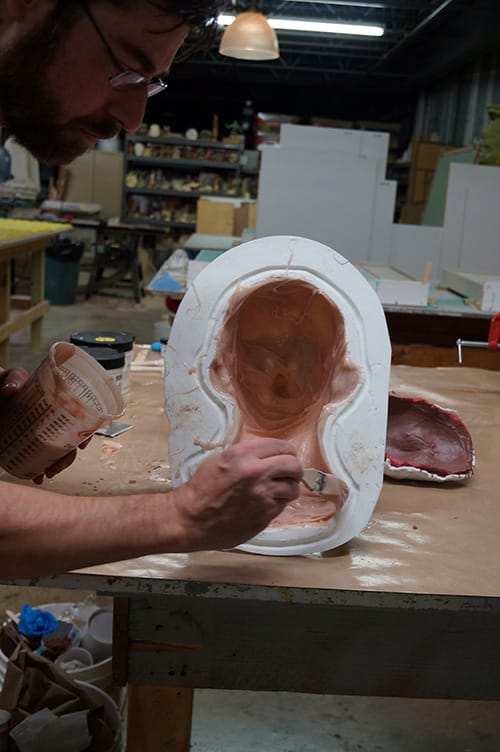 Immediately after application of this layer, add a layer of cotton or polyester fiber. PolyFoam F-3, a polyurethane foam, will not chemically bond to silicone; therefore, a mechanical bond must be made.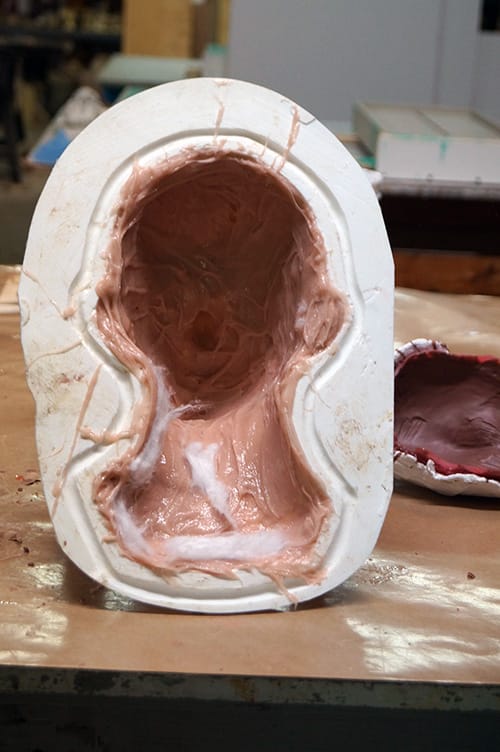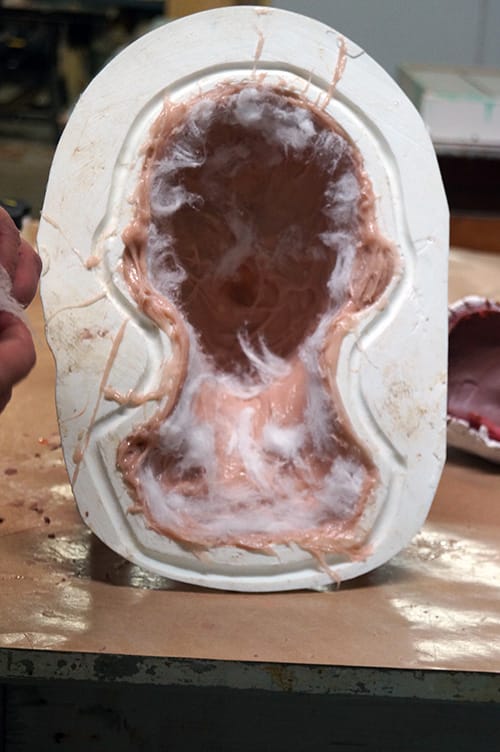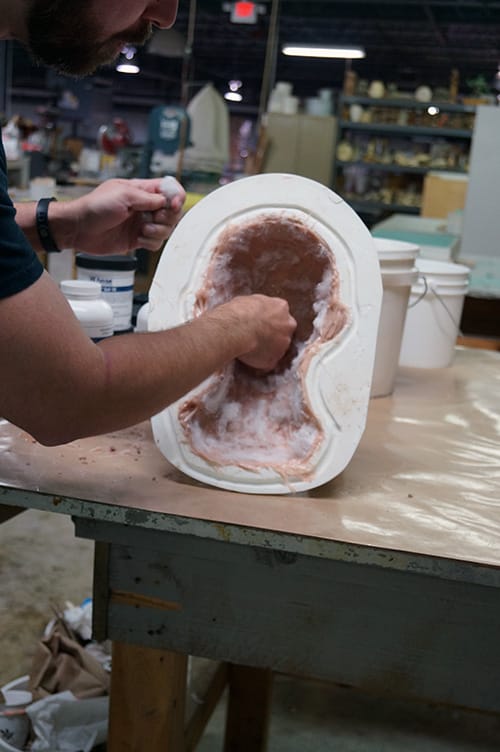 When the second layer of PlatSil Gel-OO has cured, pull the loose, excess fibers out of the silicone.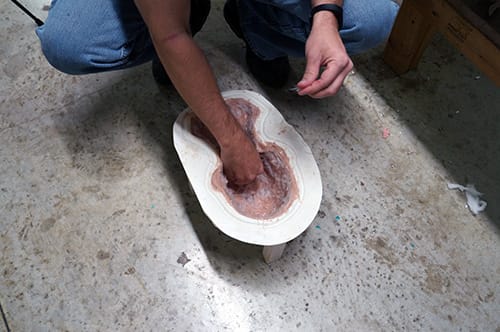 Prepare to backfill the silicone with PolyFoam F-3.

PolyFoam F-3 is a flexible, polyurethane foam with a free-rise density of 3 lb/ft³. It has a mix ratio of 1A:2B by weight, a 25-second cream time and a 10-minute demold time.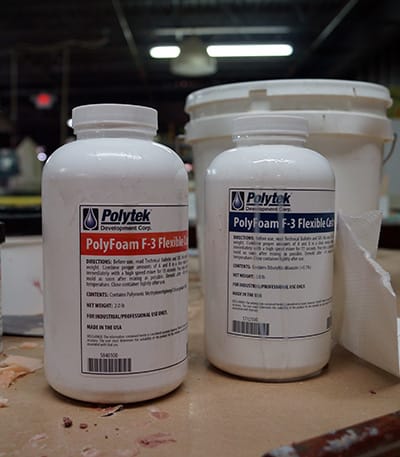 Carefully weigh out PolyFoam F-3 Part A and Part B. Once these parts are added together, work quickly to mix and then pour the foam into the mold. If too much time elapses, the foam will rise in the mixing container and the mix may be lost.

We recommend packing PolyFoams to a minimum of 2 to 3 lb/ft³ above their free-rise density to achieve good surface detail. PolyFoam F-3 should be packed to 5-8 lb/ft³.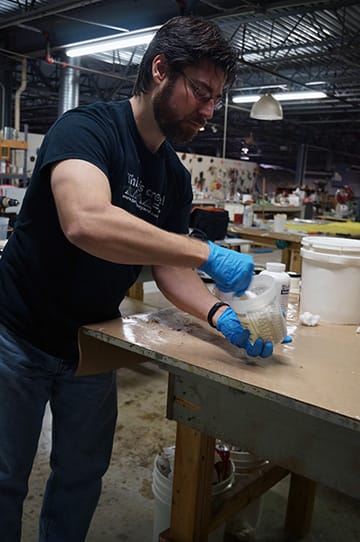 Pour the PolyFoam and brush around to thoroughly coat the silicone.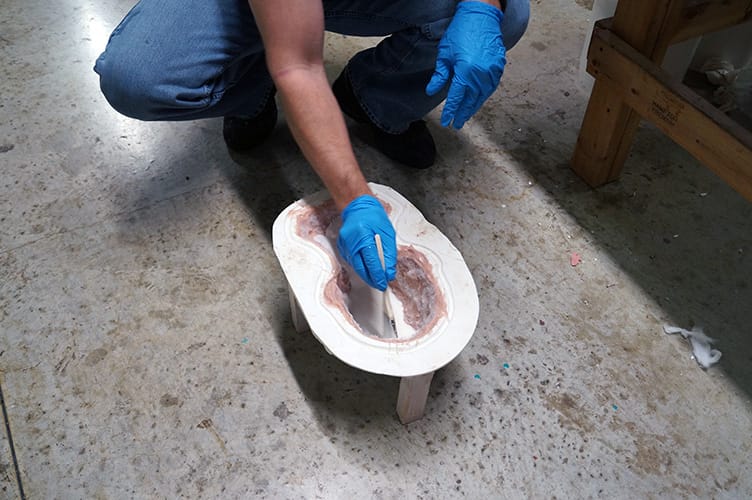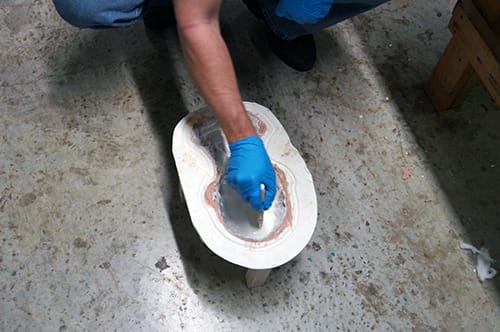 Allow the foam to rise and cure. Some may choose to add a lid (with vent holes) to close the mold – doing so will provide better compaction and produce a better part in most cases. If using a lid, it should be securely clamped down to the mold before the foam begins to rise.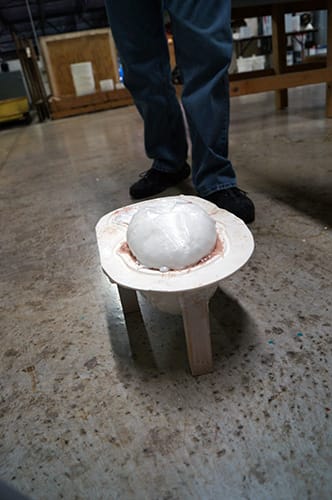 After ~10 minutes, the piece can be demolded. Carefully loosen the edges of the silicone before removing the whole casting.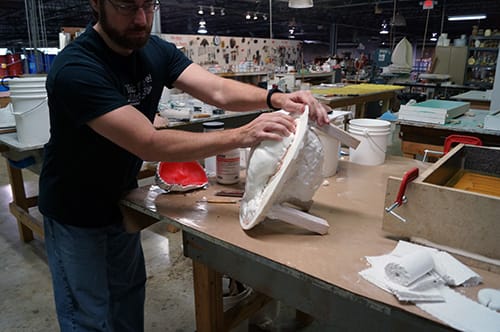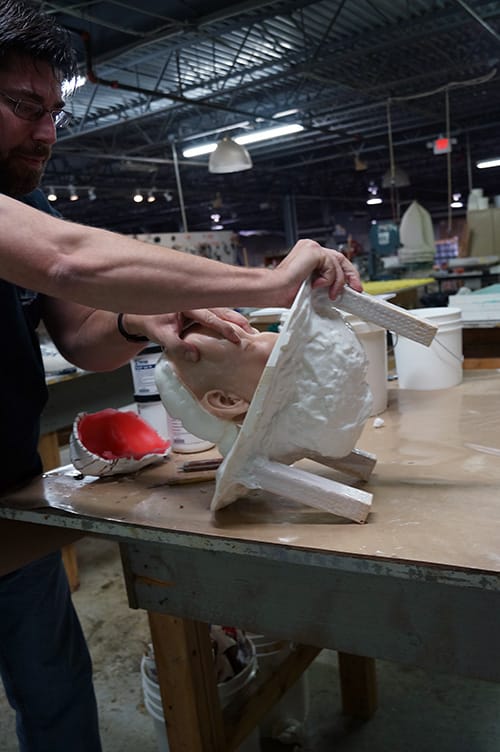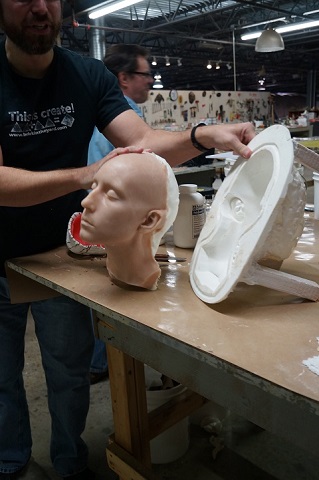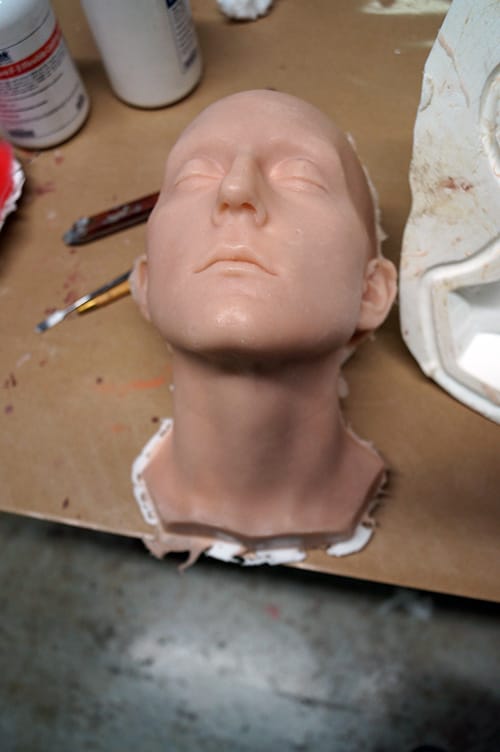 The polyurethane foam can be trimmed to better fit the silicone skin around the edges.

Another Option: PlatSil® Gel-OO & PlatSil® SiliFoam

PlatSil SiliFoam is a platinum-cured silicone foam with a free-rise density of 15 lb/ft³. This product has a 1A:1B mix ratio, ~45-second cream time and ~30-minute demold time.

Unlike polyurethane foam, silicone foam will bond to silicone rubber.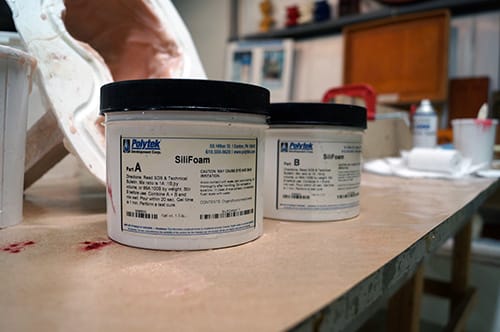 The same process for applying the PlatSil Gel-OO skin is used (i.e., one thin, detail layer and one thickened layer); however, the addition of cotton or polyester fiber is unnecessary. After the second layer of PlatSil Gel-OO has been applied, PlatSil SiliFoam can be mixed up and poured into the mold. Casting the foam before the silicone has fully cured is the most effective method.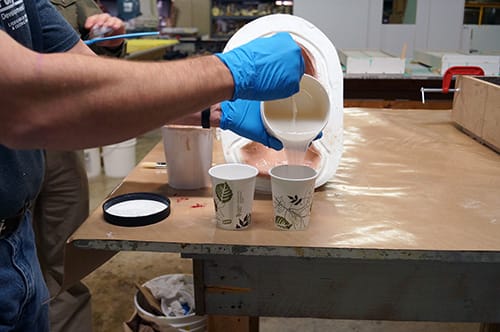 Silicone pigments, like Fleshtone, can easily be added to the foam before mixing Part A and Part B together.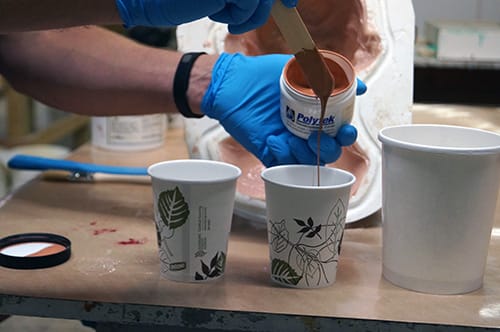 After mixing thoroughly, pour the silicone foam into the mold and brush around.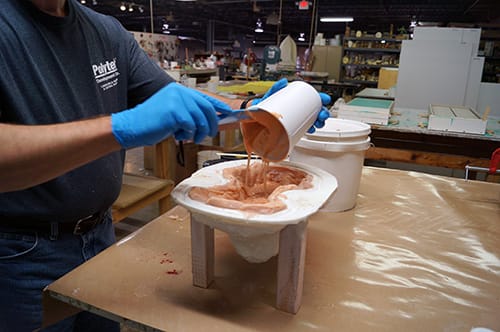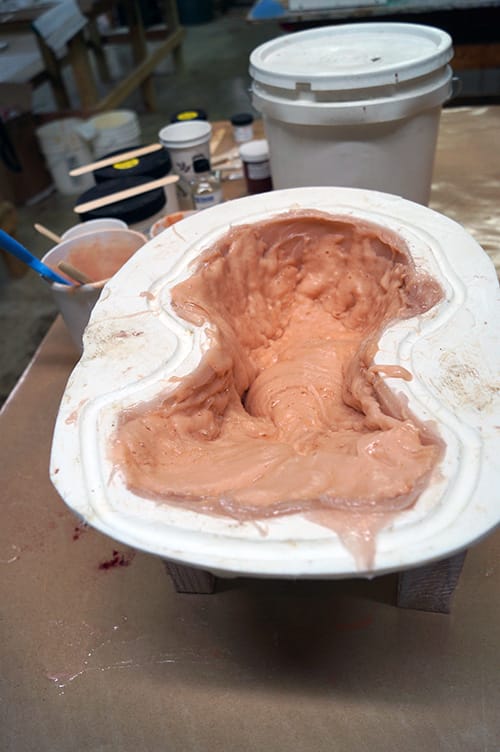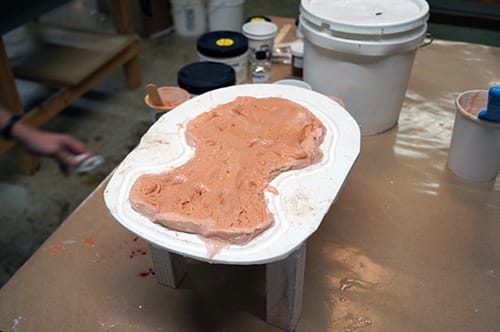 Allow the silicone foam to cure before loosening the edges of the silicone and removing the casting.