Blending Liquid Rubber & Plastic: Poly-Optic® Series
Poly-Optic 14-SeriesCasting Resins are two-part, room temperature curing, polyurethane systems that result in water-clear castings. They can be colored with PolyColor Dyes to achieve transparent, colored castings.

There are six individual product options within this series, most of which result in a rigid, Shore D80-D85 plastic. One option; however, is a firm rubber that cures to a Shore A70 hardness. As points of reference, Shore D80-D85 is comparable to the hardness of a hard hat, while Shore A70 is similar to that of a car tire [more examples of Shore hardness are below].

Blending Poly-Optic Products to Achieve Varying Hardness
If you require a clear polyurethane plastic that has a hardness between Shore A70 and Shore D80, Poly-Optic 1410 (a hard, Shore A80 plastic) and Poly-Optic 14-70 (a firm, A70 rubber) can be blended at different ratios to achieve varying hardness.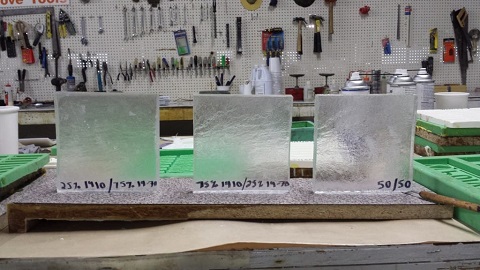 [Samples of blended Poly-Optic cast in a slate tile mold:
25% 1410/75% 14-70, 75% 1410/25% 14-70, 50% of each]
In the table below, you will find what ratios (by weight) these two Poly-Optic products should be mixed at to achieve varying Shore hardness.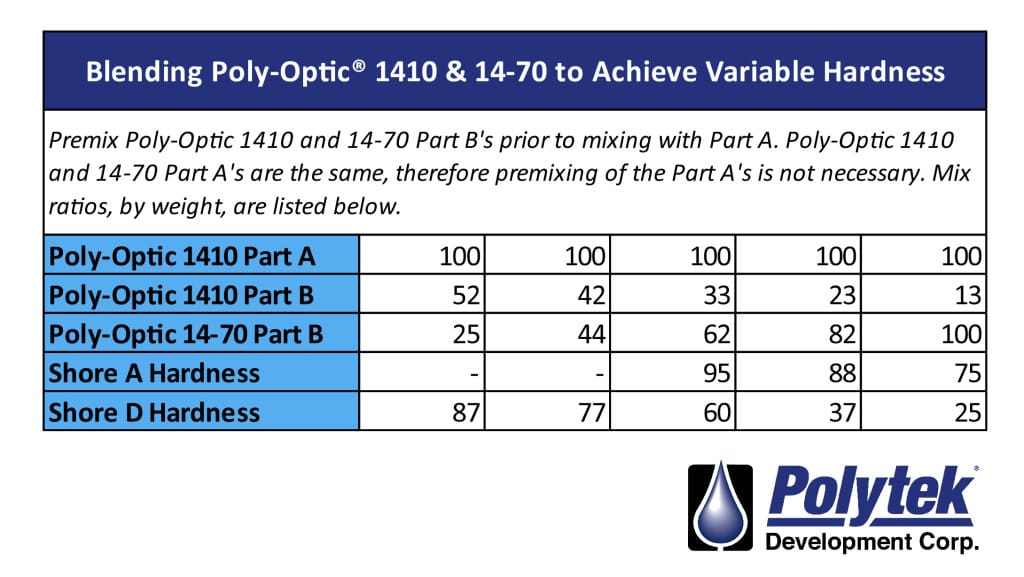 NOTE: Poly-Optic 1410 is a non-yellowing formula (
note
: it is not recommended for long-term exterior use); however, Poly-Optic 14-70 is
not
a non-yellowing formula, so the addition of any amount of Poly-Optic 14-70 added to Poly-Optic 1410 will cause the entire casting to yellow more quickly when exposed to UV light than a casting without any Poly-Optic 14-70.