Spray-On PlatSil® Gel-25 Mold with Mold Shell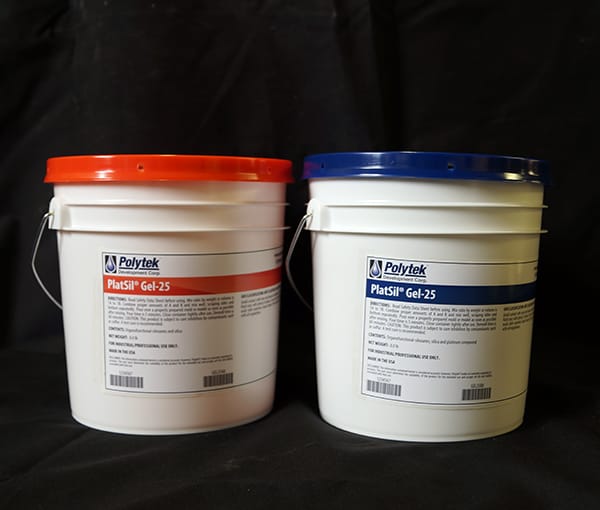 PlatSil® Gel-25 is a platinum-cured silicone rubber that is used for theatrical prosthetics, lifecasting and mold making. It is a versatile system that can be used with a variety of accessories, including thickener, accelerator, deadener and hardener. This article will focus on PlatSil Gel-25 as a mold rubber.
Without any additives, PlatSil Gel-25 is a pourable rubber that is great for making poured block molds or poured blanket molds. With the addition of TinThix or PlatThix liquid thickeners, it can be brushed or sprayed onto a model.
In this article, we detail the process of making a spray-on mold with a PlasPak Spray Gun and then making an EasyFlo 120 mold shell. If a model is on a wall, ceiling or other location preventing it from being laid flat, spraying (or brushing) the mold rubber is a good option. Sprayable mold rubbers are also great when working on large models.
Step 1: Prepare the Original Model
The original model, shown below, is made of plastic. It is adhered to melamine-laminated particle board for the mold making process.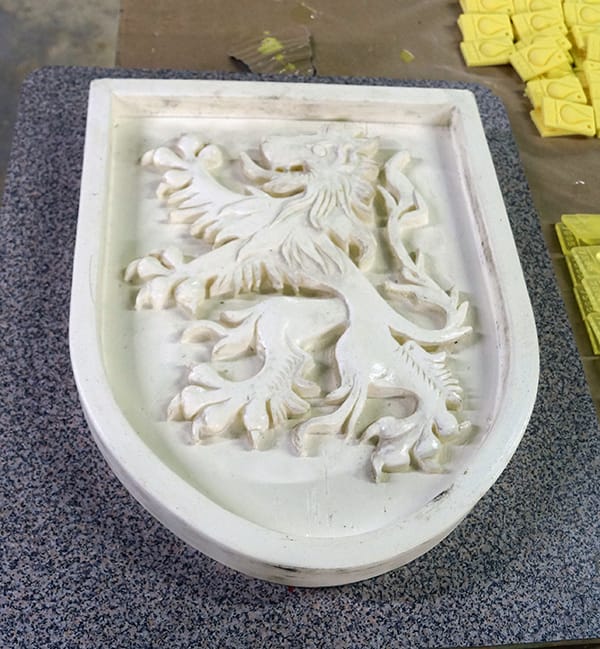 To prepare this non-porous model for silicone mold making, it is coated with Pol-Ease® 2500 Release Agent. After spraying, it is brushed out with a dry brush to ensure even coverage and no puddling. Release Agent is also applied to the surrounding melamine baseboard.

Porous models should be sealed prior to applying release agent.



Step 2: Thicken Rubber & Load PlasPak Spray Gun

All necessary components for the spray system should be ready to go before preparing the PlatSil Gel-25.

Necessary equipment for the PlasPak system include:
1:1 PlasPak Spray Gun/Regulator
Cartridge Assembly for 1:1 PlasPak System
Air (not to exceed 145 psi)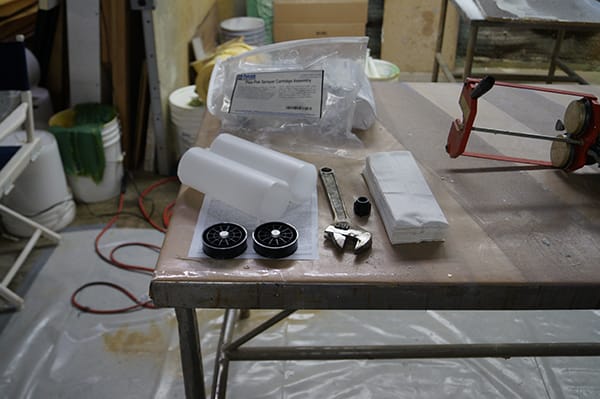 [PlasPak Cartridge Assembly]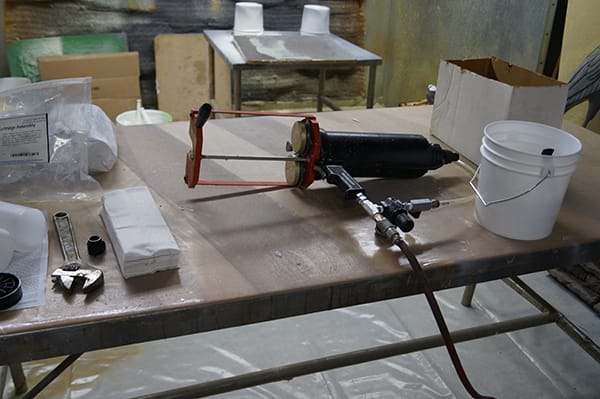 [PlasPak Spray Gun/Regulator]


The mix ratio for PlatSil Gel-25 is 1A:1B. Part A and Part B are measured, by weight, and placed into separate mixing containers (this product can be measured by weight or volume). The 1:1 PlasPak cartridges hold 1500 ml of material in total.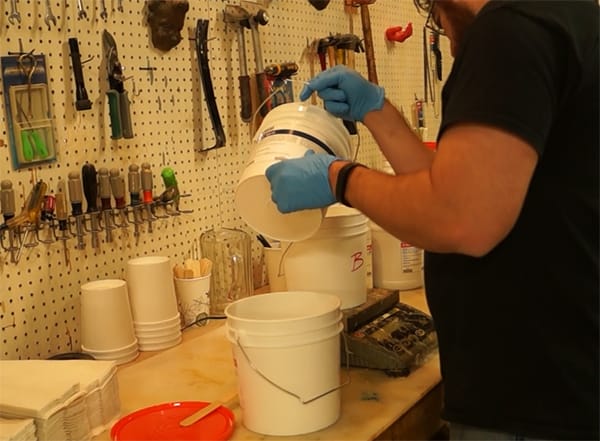 A small amount of TinThix liquid thickener is added to both Part A and Part B. 1% to 5% TinThix can be added, by weight, to PlatSil Gel-25. It may take some experimentation to achieve the right consistency for spray application.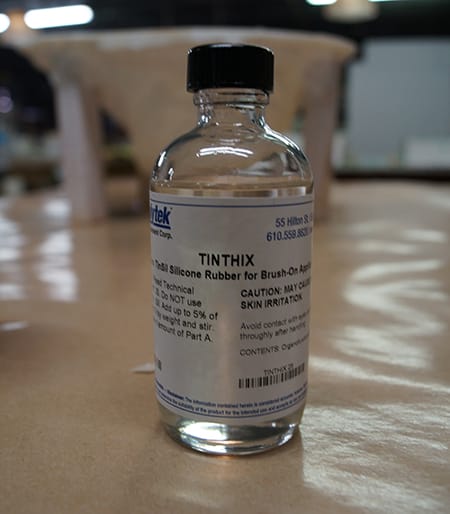 Pour thickened Part A into one side of the cartridge and thickened Part B into the other side of the cartridge.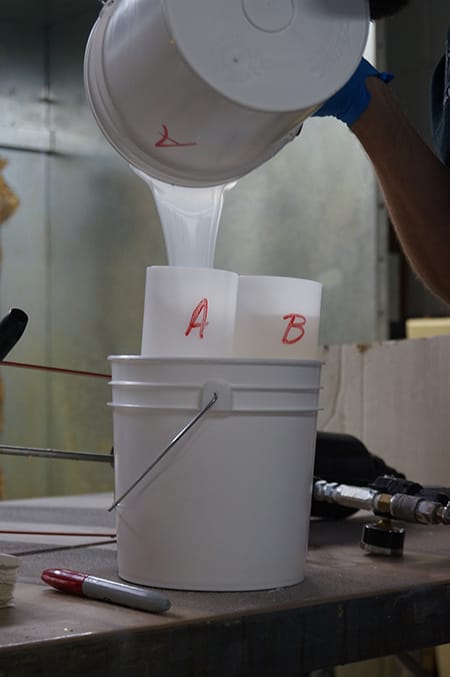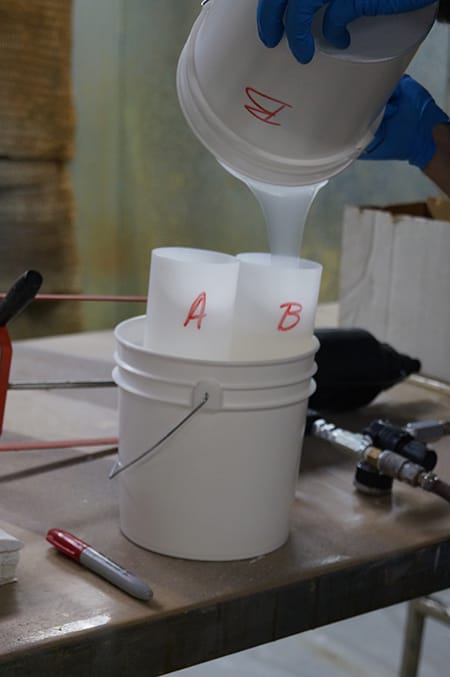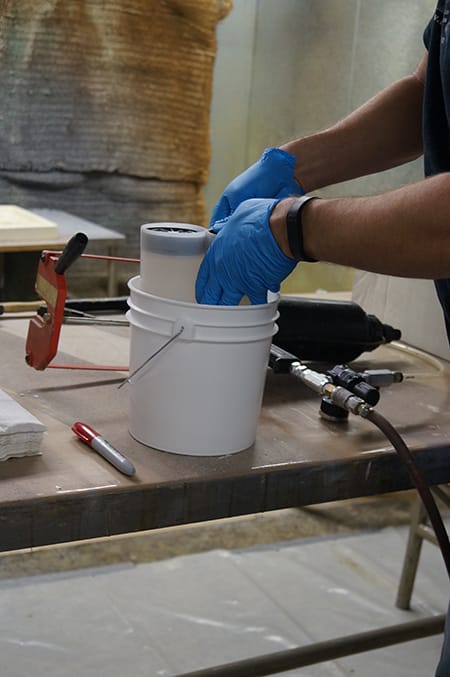 Step 3: Spray Silicone onto Model

The cartridges and static mixer are secured to the PlasPak Gun and then the gun is hooked up to an appropriate external air compressor. When everything is assembled correctly, the silicone is sprayed evenly across the surface and sides of the model. A rubber flange is also created around the outside of the model on the melamine baseboard.

*NOTE: This is a brief overview of the spraying process. For detailed instructions and use for PlasPak Spray Guns, review the PlasPak Technical Bulletin or call Polytek Technical Support.*

It is important to keep the working time of the product in mind during this process. PlatSil Gel-25 has a working time of 6 minutes. After 6 minutes, the silicone will begin to set and will no longer flow through the static mixer.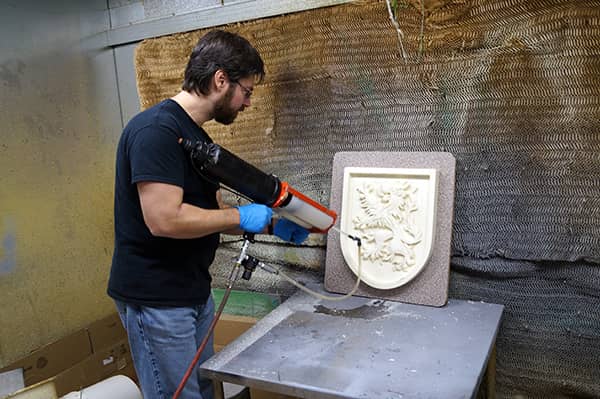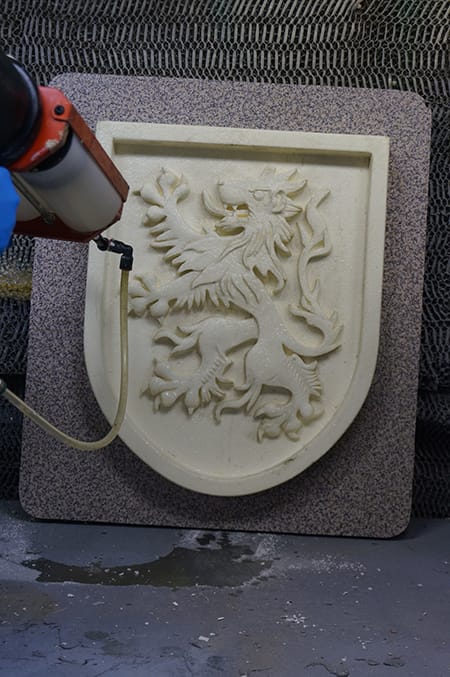 A second person follows with a brush to work the silicone into the detail of the model and to ensure even coverage.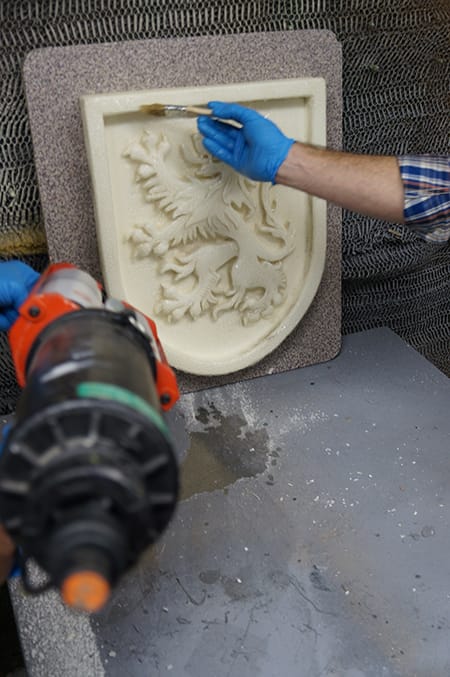 Because PlatSil Gel-25 is a milky white material, it is a good idea to add a silicone color pigment prior to spraying; especially if the model is an off-white color like this one. It is much easier to see coverage this way.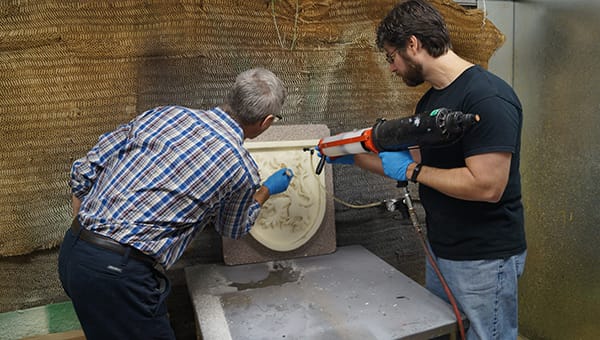 Blanket molds should be at least 1/4″ thick. Some molds may require multiple layers depending on the size of the model. If a second layer is necessary, allow the first layer of PlatSil Gel-25 to gel enough so that it won't be disturbed when more silicone is applied.

In this case (pictured below), one layer has been sprayed on and is allowed to gel before application of a second brush-on layer to fill thin areas.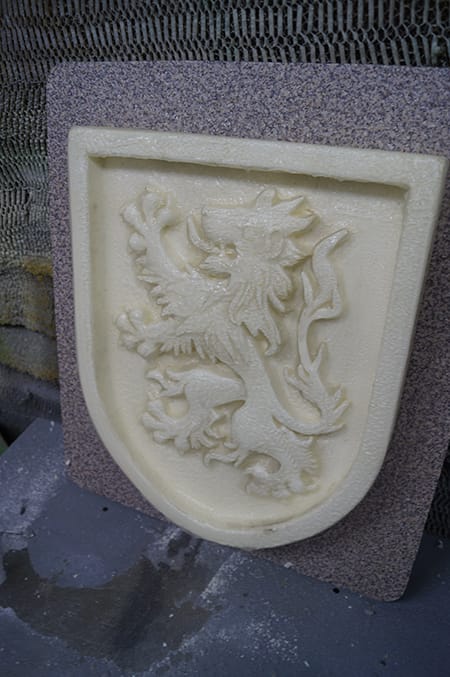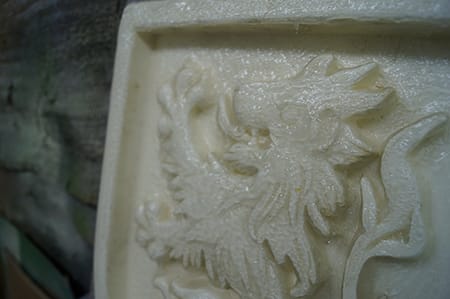 Step 4: Apply Another Layer of Silicone if Necessary

A batch of thickened PlatSil Gel-25 with blue silicone pigment is mixed up and used to manually fill thin areas in the mold.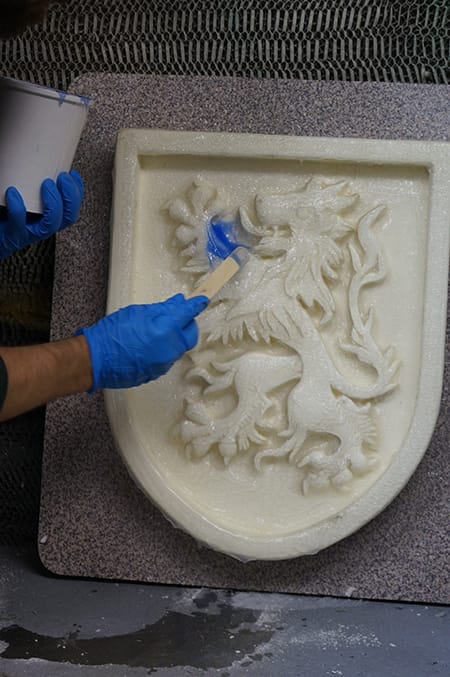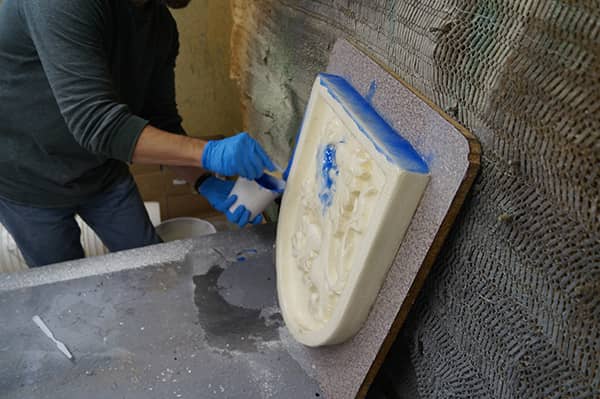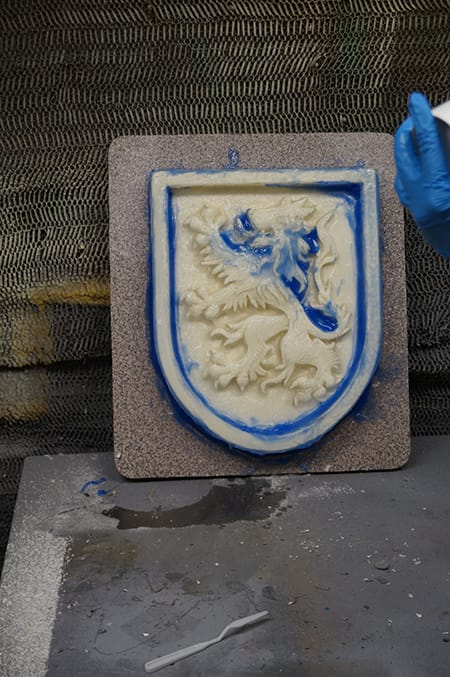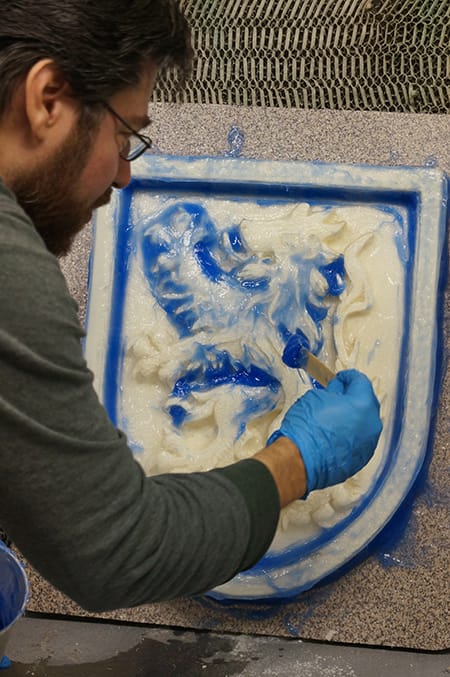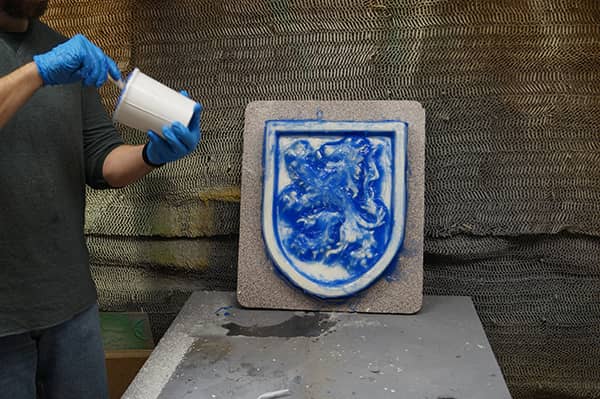 When the desired mold thickness is reached, the silicone is left to cure for ~1 hour before the next step.

Step 5: Construct Mold Shell

EasyFlo 120 Liquid Plastic is a fast-setting, polyurethane plastic. It has a pour time of 2 to 2.5 minutes and a demold time of 15 to 30 minutes.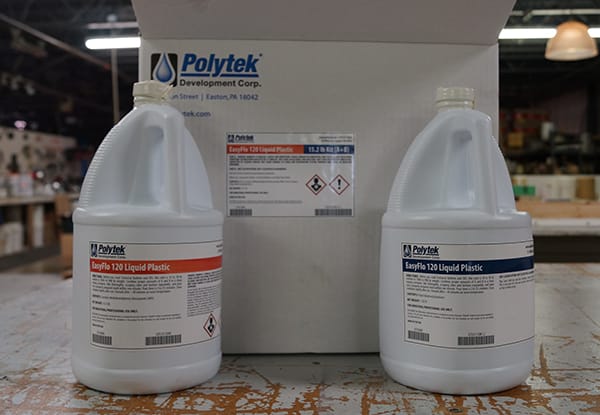 With the addition of PolyFiber II (pictured below), EasyFlo 120 can be brought to a thixotropic consistency for brush-on application.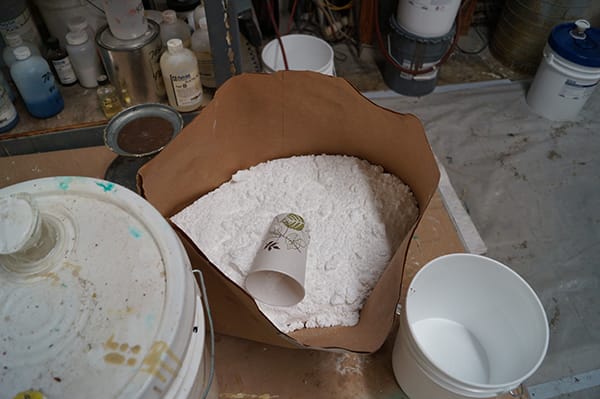 Because this plastic has a fast working time, three batches are measured out in advance so they can be mixed quickly when needed.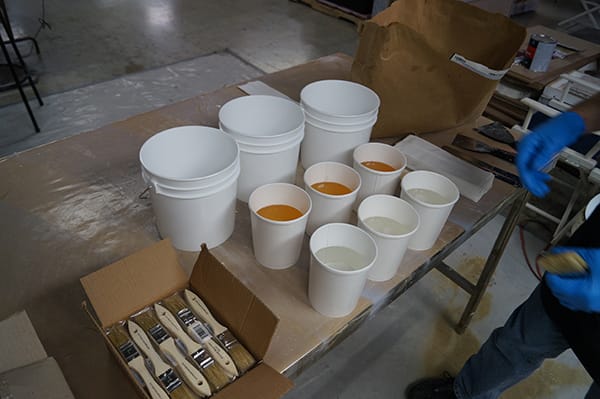 One batch of EasyFlo 120 is mixed with PolyFiber II and then applied to the cured silicone with dry brushes and metal spatulas.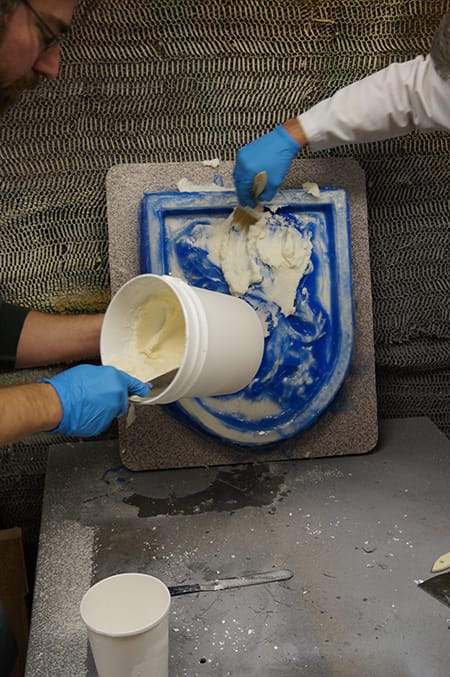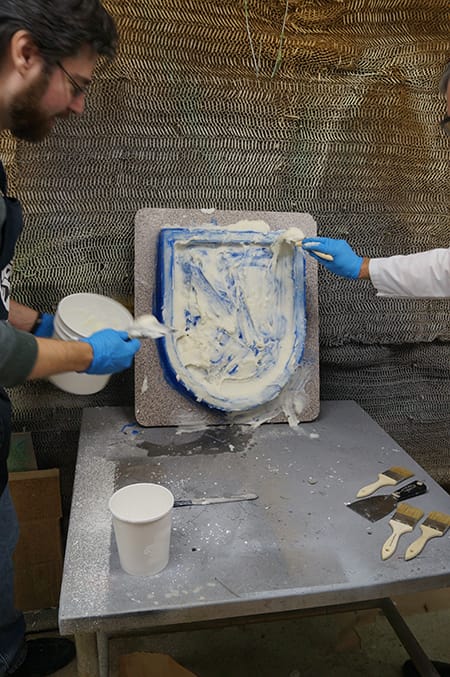 Other batches of EasyFlo 120 and PolyFiber II are mixed as needed.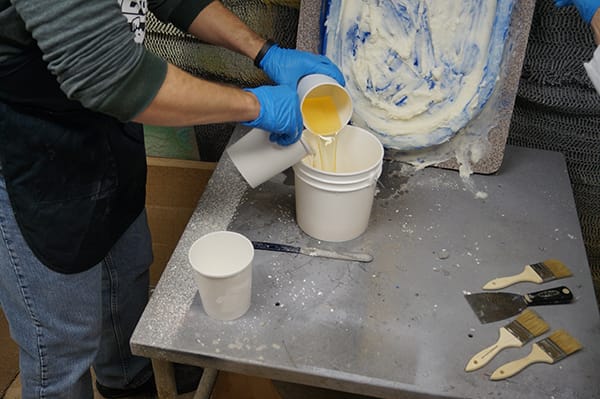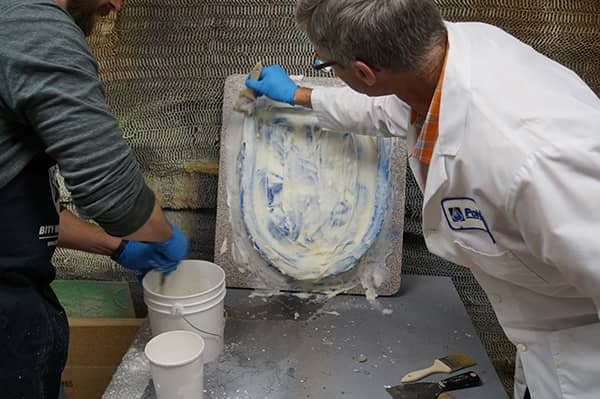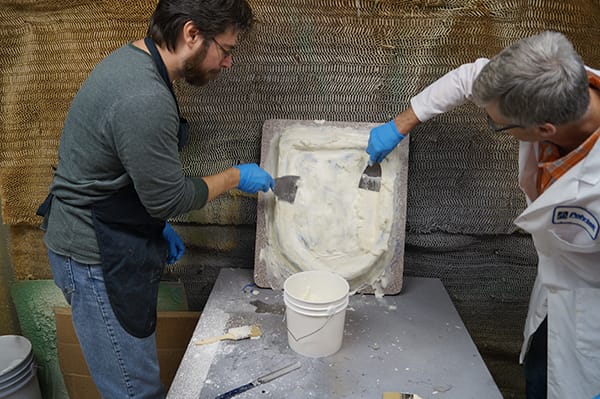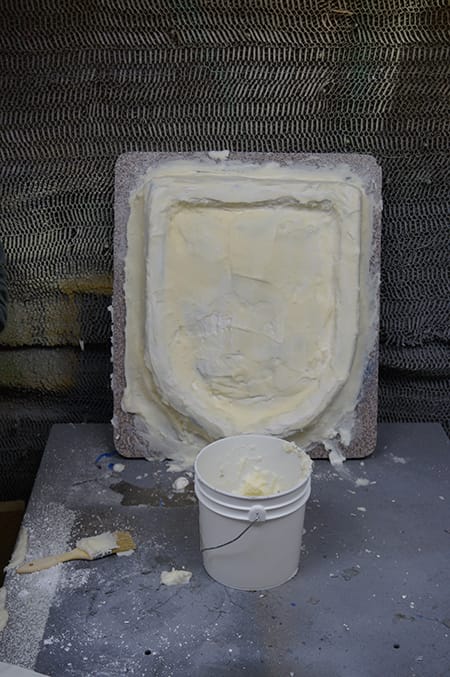 The EasyFlo 120 is allowed to cure (~15 to 30 minute). When fully cured, the edges are carefully loosened and then the entire mold shell is removed.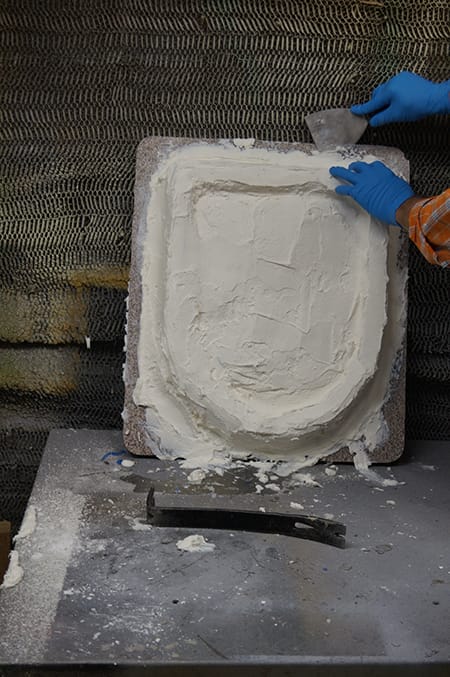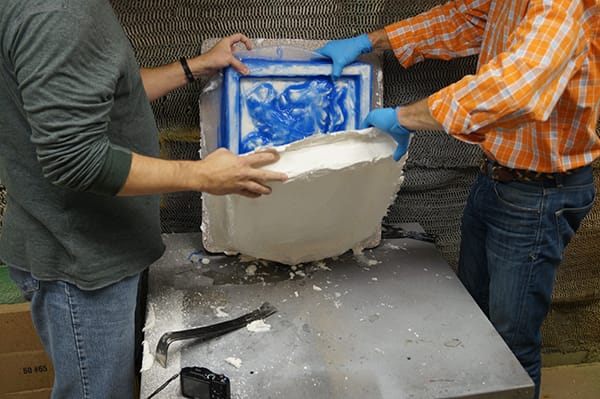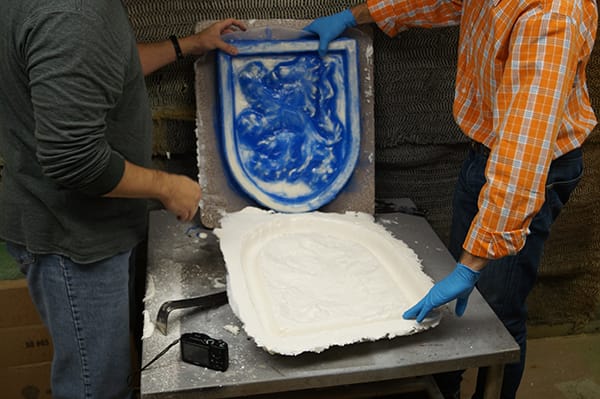 The edges of the mold are loosened and then the entire mold is carefully peeled off of the model.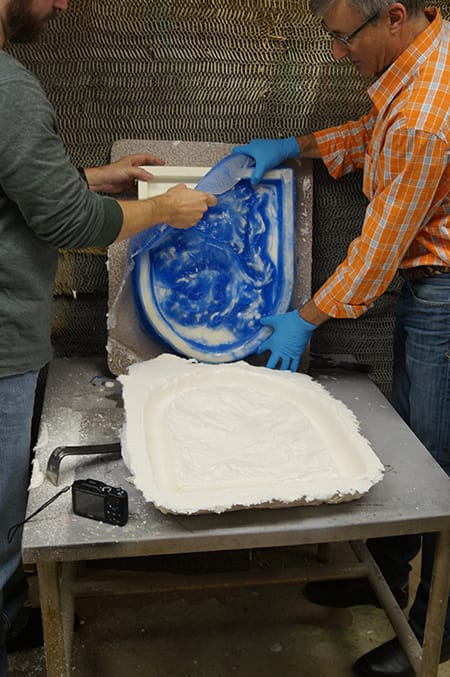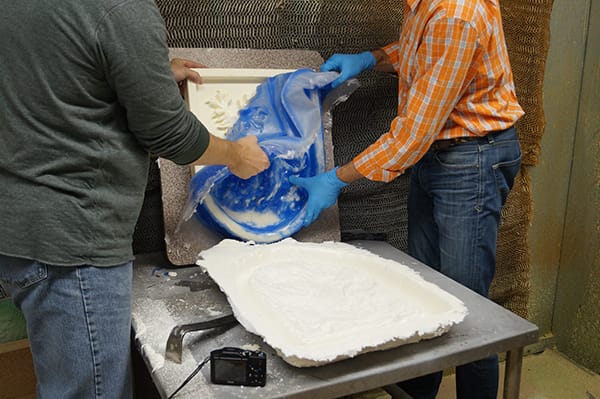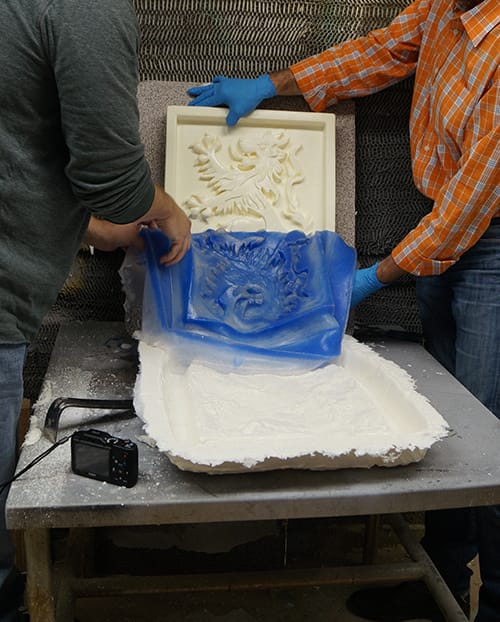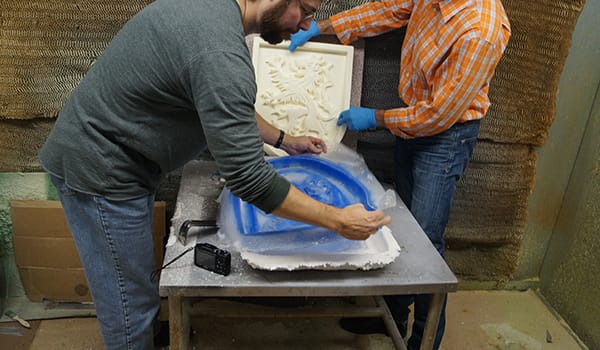 The mold is now ready for casting. Many materials can be cast in PlatSil Gel-25 molds, including polyurethane resin and foam, polyurethane rubber, wax, plaster, and concrete. Silicone can also be cast into this mold with the proper release agent.